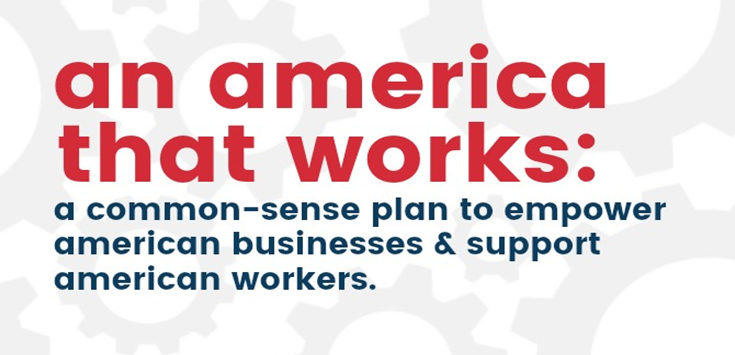 Our nation faces many challenges, but perhaps none is more pressing than that of growing our economy.
Today's economic indicators are pointing the right direction - and not a moment too soon. The fact is, the 1.5% GDP growth we've experienced over the past several years was simply unsustainable. If that trend had continued, we would not be able to fund priorities such as bolstering our national security, taking care of our veterans, combatting the addiction crisis, funding public education, and preserving our environment.
The positive impact of strong, sustained economic growth has the potential to not only grow small businesses and help families make ends meet, but also address the many other pressures we face.
As your independent voice in Congress, I'm working with leaders of both parties to put politics aside and do what we were sent to Washington, D.C. to do: stand up for hardworking families and unleash the power of the American economy. An America That Works is a bipartisan playbook for this Congress to empower American businesses and support American workers.
I hope you'll join me.
Tax & Regulatory Reform
Regulatory Reform:
When our local small businesses succeed, they create opportunity, invigorate communities and preserve the distinct character of our local economy. Unfortunately, top-down, one-size-fits-all regulations from Washington too often miss Wall Street and hit Main Street – increasing consumer fees, slowing economic growth and crushing the small community businesses crucial to Bucks and Montgomery county families and businesses.
Common sense regulatory reform is vital to the success of our economy. However, it is equally important that we never lose sight of the role smart, effective regulations that protect workers, the environment or our health. I believe that we can strike the right balance on regulations.
REINS Act [H.R. 26]: Reforms the outdated regulatory process that hurts job creation by requiring an up-or-down vote in Congress on any agency regulation with an economic cost of $100 million or more.
Financial CHOICE Act [H.R. 10]: Dodd-Frank promised to end 'too big to fail,' but instead gave us 'too small to succeed.' Unlike big banks, which can afford an army of lawyers and regulatory experts to navigate the Dodd-Frank loopholes, the community banks and credit unions that empower entrepreneurship and local lending have been squeezed out. Since the enactment of Dodd-Frank, nearly 1,900 banks - many of which were community financial institutions - have vanished, leaving consumers with fewer choices and increased fees. The Financial CHOICE Act is a clear-eyed reform that levels the financial playing field, supports access to capital and credit for all Americans, prevents taxpayer-funded bailouts, and increases penalties for white-collar criminals and accountability for regulators. Moreover, it's a victory for taxpayers: the non-partisan Congressional Budget Office reports that the legislation would save taxpayers over $24 billion.
Tax Reform:
A 21st century economy requires a 21st century tax code.
Last year, with the passage of the Tax Cuts and Jobs Act, our nation took a historic step to invest in American families and support American businesses and workers. More than just allowing Americans to keep more of their hard-earned money, this legislation maintains important parts of previous policy like deductions for student loan interest payments, strengthens and expands provisions like the Child Tax Credit, and takes new action to increase economic competitiveness at home and abroad.
Tax reform has major impacts for both middle-class families and workers, as well as local business:
For individuals and families, the Tax Cuts and Jobs Act:
Lowers individual taxes and sets the rates at 0%, 10%, 12%, 22%, 24%, 32%, 35%, and 37% so people can keep more of their hard-earned money.
Significantly increases the standard deduction to protect roughly double the amount of what you earn each year from taxes – from $6,500 and $13,000 under current law to $12,000 and $24,000 for individuals and married couples, respectively
Continues to allow people to write off the cost of state and local taxes – up to $10,000. Gives individuals and families the ability to deduct property taxes and income – or sales – taxes to best fit their unique circumstances
Takes action to support more American families by:

Expanding the Child Tax Credit from $1,000 to $2,000 for single filers and married couples to help parents with the cost of raising children. The tax credit is fully refundable up to $1,400 and begins to phase-out for families making over $400,000. Parents must provide a child's valid Social Security Number in order to receive this credit
Preserving the Child and Dependent Care Tax Credit to help families care for their children and older dependents such as a disabled grandparent who may need additional support.
Preserving the Adoption Tax Credit so parents can continue to receive additional tax relief as they open their hearts and homes to an adopted child.

Preserves the mortgage interest deduction – providing tax relief to current and aspiring homeowners.

For all homeowners with existing mortgages that were taken out to buy a home, there will be no change to the current mortgage interest deduction.
For homeowners with new mortgages on a first or second home, the home mortgage interest deduction will be available up to $750,000.

Provides relief for Americans with expensive medical bills by expanding the medical expense deduction for 2017 and 2018 for medical expenses exceeding 7.5 percent of adjusted gross income, and rising to 10 percent beginning in 2019.
Continues and expands the deduction for charitable contributions so people can continue to donate to their local church, charity, or community organization
Continues student loan interest deduction (**Signed letter supporting continuation of deduction**)
Continues Lifetime Learning Credit (**Signed letter supporting continuation of deduction**)
Maintains the Earned Income Tax Credit to provide important tax relief for low-income Americans working to build better lives for themselves.
Improves savings vehicles for education by allowing families to use 529 accounts to save for elementary, secondary and higher education.
Provides support for graduate loans by continuing to exempt the value of reduced tuition from taxes. (**Signed letter supporting continuation of exemption**)
Retains popular retirement savings options such as 401(k)s and Individual Retirement Accounts (IRAs) so Americans can continue to save for their future.
Increases the exemption amount from the Alternative Minimum Tax (AMT) to reduce the complexity and tax burden for millions of Americans.
Provides immediate relief from the Death Tax by doubling the amount of the current exemption to reduce uncertainty and costs for many family-owned farms and businesses when they pass down their life's work to the next generation.
For job creators of all sizes, the Tax Cuts and Jobs Act:
Lowers the corporate tax rate to 21% – down from 35%, which today is the highest in the industrialized world – the largest reduction in the U.S. corporate tax rate in our nation's history.
Delivers significant tax relief to Main Street job creators by:

Offering a first-ever 20% tax deduction that applies to the first $315,000 of joint income earned by all businesses organized as S corporations, partnerships, LLCs, and sole proprietorships. For Main Street job creators with income above this level, the bill generally provides a deduction for up to 20% on business profits – reducing their effective marginal tax rate to no more than 29.6%.
Establishing strong safeguards so that wage income does not receive the lower marginal effective tax rates on business income – helping to ensure that Main Street tax relief goes to the local job creators it was designed to help most.

Allows businesses to immediately write off the full cost of new equipment to improve operations and enhance the skills of their workers – unleashing growth of jobs, productivity, and paychecks.
Protects the ability of small businesses to write off interest on loans, helping these Main Street entrepreneurs start or expand a business, hire workers, and increase paychecks.
Preserves important elements of the existing business tax system, including

Retaining the low-income housing tax credit that encourages businesses to invest in affordable housing so families, individuals, and seniors can find a safe and comfortable place to call home.
Preserving the Research & Development Tax Credit that encourages our businesses and workers to develop cutting-edge "Made in America" products and services.
Retaining the tax-preferred status of private-activity bonds that are used to finance valuable infrastructure projects.

Eliminates the Corporate Alternative Minimum Tax, thereby lowering taxes and eliminating confusion and uncertainty so American job creators can focus on growing their business and hiring more workers, rather than on burdensome paperwork.
Continues the successful Federal Historic Tax Credit (HTC) with slight modifications (**Signed letter supporting continuation of credit**)
Modernizes our international tax system so America's global businesses will no longer be held back by an outdated "worldwide" tax system that results in double taxation for many of our nation's job creators.
Makes it easier for American businesses to bring home foreign earnings to invest in growing jobs and paychecks in our local communities.
Prevents American jobs, headquarters, and research from moving overseas by eliminating incentives that now reward companies for shifting jobs, profits, and manufacturing plants abroad.
Protects employees and taxpayers by prohibit the deductibility of legal settlements related to sexual assault and sexual harassment as business expenses. (**Language advocated for as part of the bipartisan STOP Act [H.R. 4495]**)
Additional legislative measures:
PACE Act [H.R.3632]: Amends the Internal Revenue Code, with respect to the tax credit for expenses for household and dependent care services necessary for gainful employment (known as the Child and Dependent Care Tax Credit), to: (1) make the credit refundable, (2) increase the rate for the credit, and (3) require the dollar amounts for such credit to be adjusted for inflation after 2017. Also increases the amount of employer-provided dependent care assistance which may be excluded from the gross income of an employee and requires the increased exclusion amount to be adjusted for inflation after 2018.
Child Tax Credit Protection Act of 2017 [H.R.1919]: Amends the Internal Revenue Code to expand the identification requirements for the child tax credit to require taxpayers to provide a valid identification number (i.e., a Social Security account number issued by the Social Security Administration) on their tax returns in addition to the name and taxpayer identification number of each qualifying child. A "valid identification number" does not include a taxpayer identification number issued by the Internal Revenue Service.
Made in the USA
American manufacturing means American jobs. In Pennsylvania, more than 12,000 manufacturing firms produced more than $85 billion in goods in 2015, making up more than 12 percent of the state's GDP. The number of manufacturing employees totaled 556,000 in 2016, earning an average of $72,500.
People in our community understand that when they buy American they're not only buying quality products, they're helping American businesses – and American workers – in their neighborhoods and across the country. The Made in America Act [H.R.3850] would connect American consumers to American manufacturers like never before by creating a definitive, standardized definition of American-made goods.
The Made in America Act would encourage and educate consumers on buying "Made In America" products by creating an 'America Star Program' similar to the successful Energy Star and USDA Certified Organic programs. The new voluntary program would encourage manufacturers to meet certain domestic manufacturing benchmarks, showing the percentage of the product made in the U.S.A., while providing consumers an easy way to identify American made products. The Federal Trade Commission would be responsible for overseeing the development of the guidelines, labeling and enforcement.
Strengthening Federal Contracting
Strengthening Federal Contracting
Bucks and Montgomery County businesses are among the best in the nation and often on the cutting edge of their industries — from aerospace engineering to widget manufacturing, so it's no wonder why the military and other federal agencies are eager to partner with them to accomplish important national objectives like equipping our armed forces or building our roads.
Buy American Improvement Act of 2017 [H.R.904]: Applies 'Buy American' requirements to federal spending programs that are not covered in current law and will close loopholes in programs where 'Buy American' requirements are already law. Additionally, the measure sets domestic content standards for indirect purchases by U.S. Department of Transportation grantees.
Small Business Payment for Performance Act of 2017 [H.R.2594]: Amends the Small Business Act to provide interim partial payment to small business contractors that request an equitable adjustment due to a change in the terms of a construction contract
BOSS Act [H.R.2541]: Directs the Under Secretary of Commerce for Standards and Technology to enter into an arrangement with the National Academy of Sciences to conduct a study on the role of incubators and accelerators in the commercialization of federally funded research and regional economic development.
A 21st Century Workforce
A 21st Century Workforce
We need to rethink American education and job training so we're preparing students for a 21st century job market. From student loans to apprenticeship opportunities to investing in our veterans, there is real bipartisan momentum to better educate and train the workforce of today… and tomorrow.
Apprenticeships:
Substantive apprenticeship programs are an integral part of the quality education that leads to good paying American jobs. A skilled workforce is a critical component to a continued productive economy, but in recent decades employers have been experiencing a shortage of properly trained, available workers.
By closing the skills gap, this bipartisan program will encourage more good-paying jobs for working families, while addressing our nation's current shortage of trained workers.
Apprenticeship and Jobs Training Act of 2017 [H.R.3707]: Allows employers a business-related tax credit for up to $5,000 for the training of a qualified individual in a qualified apprenticeship program or multi-employer apprenticeship program.
American Apprenticeship Act [H.R. 4083]: Directs the Department of Labor to make competitive grants to assist states in, and to pay for the federal share of between 20% and 50% of the cost of, instruction associated with pre-apprenticeship and apprenticeship programs.
529 OPTIONS Act [H.R. 3395]: Amends the Internal Revenue Code of 1986 to allow tax free distributions from section 529 college savings plans for certain expenses associated with registered apprenticeship programs
Veterans:
Our veterans are uniquely skilled to power our economy forward. By expanding educational opportunities, we can lower the unacceptably high unemployment rate in the veteran community and leveraging their training into in-demand jobs.
Forever GI Bill [H.R. 3218]: Improves and extends GI Bill benefits by removing time restrictions for service members using the GI Bill, consolidates the GI Bill into a single program over time to reduce administrative costs, increases GI Bill funding for Reservists and Guardsmen, and supports veterans who enter technical courses.
Student Loans:
For too many, student loan debt is a crippling burden that impacts their involvement in our economy and achieving personal goals like owning a home, starting a family and supporting their community. We need to find new ways to reduce barriers to educational opportunities and post-graduation success.
Employer Participation in Student Loan Assistance Act [H.R.795]: Amends the Internal Revenue Code to extend the tax exclusion for employer-provided educational assistance to include payments of qualified education loans by an employer to either an employee or a lender.
Student Loan Refinancing and Recalculating Act [H.R. 4001]: Allows students to refinance their student loan interest rates, lower future student loan interest rates, eliminate origination fees on student loans, delay student loan interest rate accrual for low-income and middle-class borrowers while they are pursuing their education, and allow for borrowers in medical or dental residencies to defer payments until the completion of their program.
Student Right to Know Before You Go Act [H.R. 4479]: Establishes new metrics to be published by the Department of Education to focus on data that provides future students and their families with information post-graduation average annual earnings, rate/amount of federal loan debt, rates of remedial enrollment, credit accumulation, and graduation rates among other data sets.
Investing in Employees
Investing in Employees
A small business is only as strong as its employees. Congress must support efforts to not only train the next generation of workers, but also clear the way for businesses to invest in their success.
Promotion and Expansion of Private Employee Ownership Act of 2017 [H.R.2092]: Amends the Internal Revenue Code to: (1) extend to all domestic corporations, including S corporations, provisions allowing deferral of tax on gain from the sale of employer securities to an S corporation-sponsored employee stock ownership plan (ESOP); and (2) allow a tax deduction for 50% of the interest incurred on loans to S corporation-sponsored ESOPs for the purchase of employer securities, the Department of the Treasury must establish the S Corporation Employee Ownership Assistance Office to foster increased employee ownership of S corporations, and this bill also amends the Small Business Act to define "ESOP business concern" and allow such a concern to continue to qualify for loans, preferences, and other programs under such Act.
Small Business Employee Ownership Promotion Enhancement Act [Draft]: Promotes the establishment and creation of employee stock ownership plans.
A Strong, Secure Infrastructure
Transportation:
Investing in our roads, bridges, railways and airports is an investment in our nation, its economy and our families.
Fairness to Veterans for Infrastructure Investment Act [H.R. 4319]: Levels the playing field in federal contracting for veteran-owned businesses by providing veterans access to existing preferences authorized for transportation projects.
Move America Act of 2017 [H.R.3912]: Amends the Internal Revenue Code to allow tax-exempt Move America bonds and tax credits to be used for certain infrastructure projects. A Move America bond is treated as a tax-exempt private facility bond with certain exceptions. At least 95% of the net proceeds from the issuance of the bond must be used for infrastructure projects, including: airports; docks and wharves; mass commuting facilities; railroads; certain surface transportation projects eligible for federal assistance, projects for an international bridge or tunnel, or facilities for transferring freight from truck to rail or rail to truck; and more.
Information Technology:
In their 2015 Year-End Economic Report, the National Small Business Association noted that "42 percent of small businesses report they have been the victim of a cyber-attack." The average loss to a business whose banking account was compromised by a cyberattack was more than $32,000. Under the legislation, small businesses are defined as those who have 100 or fewer employees.
As a member of the both the Small Business Committee and the Homeland Security Committee's Subcommittee on Cybersecurity & Infrastructure Protection, I understand that cybersecurity is a complex and serious national and economic security issue that our country will continue face over the decades to come. As such, we need to act now to ensure we're protecting our nation's infrastructure and businesses.
Small Business Cybersecurity Enhancement Act [H.R.3968]: Creates a loan guarantee program that would allow small businesses to acquire cybersecurity technology and services.
Energy:
Whether it is state actors from North Korea to Russia, hacktivists or terror groups, cyber-security – especially when it comes to infrastructure like our electric grid - is a complex and serious national and economic security issue that our country will continue face over the decades to come.
Securing the Electric Grid to Protect Military Readiness Act of 2017[H.R. 3855]: Requires a report from the Departments of Defense, Energy, and Homeland Security, and the Office of the Director of National Intelligence on significant security risks to the national electric grid, the potential effect of such security risks on the readiness of the United States Armed Forces, and recommendations for mitigating those threats.