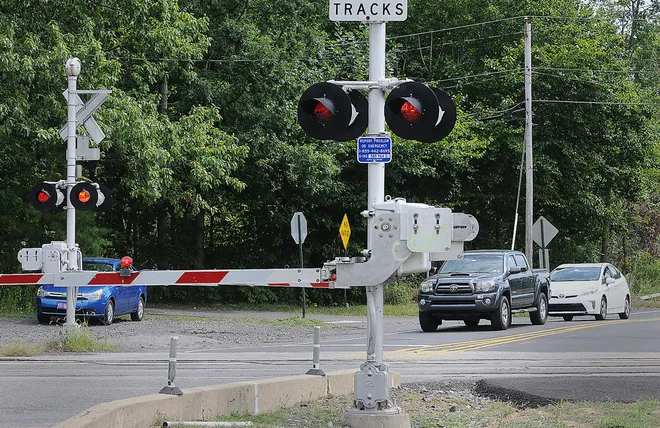 For years, the railroad crossing near the Woodbourne Station and neighboring crossings in Middletown Township have been a public nuisance and safety risk when blocked and obstructed. Miles-long trains, malfunctioning lights and sensors, and lowered gates create hours-long disruptive and unnecessary vehicle traffic for commuters and residents at all times of the day and night. Worst of all, obstructed rail crossings at these locations severely impact the ability of our first responders to respond to emergencies or immediately reach hospitals and healthcare facilities. Here is some of our recent work on this issue:
Report a Blocked Crossing
Last year, I led the effort to pass the bipartisan Infrastructure Investment and Jobs Act through Congress. This landmark law made historic investments in our nation's crumbling hard infrastructure network, and among many other things, established a Blocked Crossing Portal website so that Americans across the country could report these dangerous and unnecessary instances of obstructed rail crossings.
To access the Federal Railroad Administration's portal and report a blocked crossing in our community, click

here

.
In the News: CSX Rail Work Delayed, Bellevue Avenue Will Remain Open
July 24, 2022
LEVITTOWN, PA - Drivers on Bellevue Avenue (Route 413) can breathe a sigh of relief after a construction project was delayed. CSX was set to close the section of roadway near the Langhorne Train Station starting Sunday and remain closed from 7 a.m. to 6 p.m. through Saturday. Warning signs were flashing all week and CSX was preparing to start the railroad crossing replacement project.
However, PennDOT told LevittownNow.com that the project has been delayed and no new date has been determined. "We apologize for any inconvenience," PennDOT said.
The closure was taking place at the Langhorne Train Station in Middletown Township on the borders with Langhorne Manor and Penndel boroughs. Due to the closure of the nearby Hulmeville Avenue bridge due to reconstruction, some residents raised concern over the impact the Bellevue Road closure would have on area roadways.
In a tweet, Congressman Brian Fitzpatrick, a Republican from Middletown Township, said he sent a letter to CSX and the Federal Railroad Administration to raise concern over the closure while the bridge is out. He said the closure would delay emergency responders. "By waiting until the construction on the bridge is complete, this alternate route would cause a minimal impact on response times and would further create an alternate route that is best for our residents," he said on social media.
In addition to CSX, SEPTA's West Trenton Line uses the tracks that cross Bellevue Avenue.
credit: Tom Sofield/LevittownNow.com
Implementing the Blocked Crossing Portal
In July 2022, ahead of a hearing held by the House Committee on Transportation & Infrastructure on "Implementing the Infrastructure Investment and Jobs Act," I sent the below letter to Secretary of Transportation Pete Buttigieg and Federal Railroad Administrator Amit Bose.
You can watch my questioning of Sec. Buttigieg on this and other topics during the hearing here.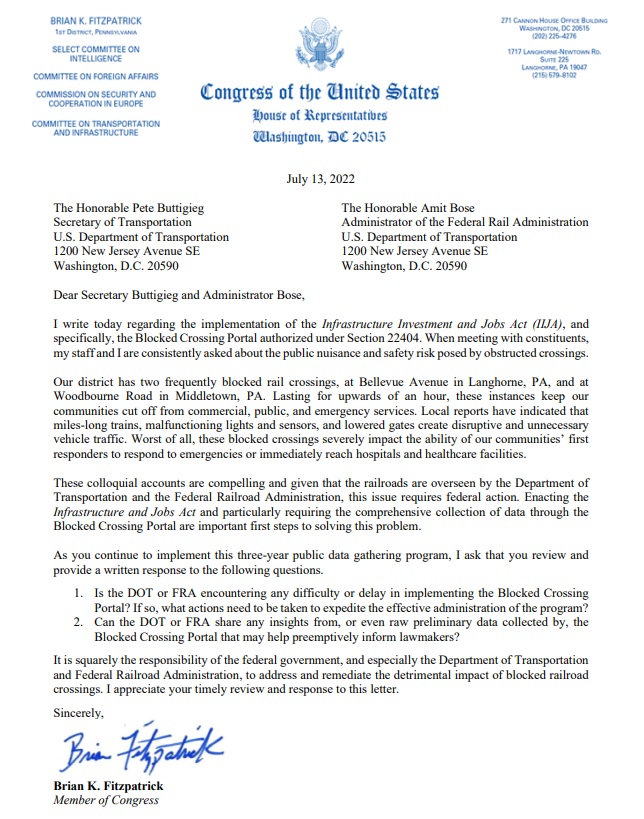 Apply for a Railroad Crossing Elimination Grant
The Infrastructure Investment and Jobs Act also authorized the Railroad Crossing Elimination Program through the U.S. Department of Transportation. Grants through this program can be used for highway-rail or pathway-rail grade crossing improvement projects that focus on improving the safety and mobility of people and goods. Projects can include construction of a bridge or tunnel, track relocation, and other safety improvements meant to remediate the impact of blocked railroad crossings. State, county, and local governments are eligible to apply.
To learn more about this program, visit the Railroad Crossing Elimination Grant Program website or contact my District Office at 215-579-8102.