WASHINGTON, DC—This week, Congressman Brian Fitzpatrick (PA-01) joined the bipartisan Problem Solvers Caucus in a virtual Floor debate to discuss policy options for the next COVID-19 relief package. During the debate, 24 members of the Caucus, evenly split between Republicans and Democrats, showed how the House could function during the remainder of the COVID-19 national emergency.
"It is important to show all Members of Congress that we can get work done and have some semblance of normal order during this crisis. Our communities are counting on us now more than ever to continue to work together and deliver necessary relief," said Fitzpatrick. "I appreciate the Caucus coming together to show that we can still be productive, and I look forward to continuing to work in a bipartisan manner to deliver results for the American people."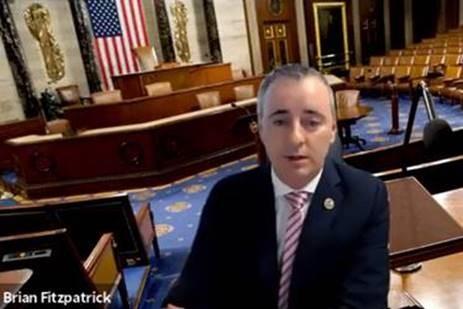 Fitzpatrick Speaks During Problem Solvers Caucus Virtual Debate
Last month, the Caucus sent a letter to Speaker of the House Nancy Pelosi and Minority Leader Kevin McCarthy asking that they begin discussing ways for the House to operate for the duration of the COVID-10 national emergency. In the letter, the Caucus presented options for continuing House operations remotely, including voting, debate, and committee actions.
Fitzpatrick serves as the Vice Chair of the Problem Solvers Caucus. The Caucus is a bipartisan group in Congress comprising of 50 members – equally divided between Democrats and Republicans – who are committed to forging bipartisan cooperation on key issues.
###