WASHINGTON, DC – Congressman Brian Fitzpatrick (PA-01) and Congressman Josh Gottheimer (NJ-05) introduced the bipartisan Patriot Day Act to designate September 11 as a federal holiday.
"September 11, 2001 was a dark day in our nation's history, but in even in the face of a devastating attack on our homeland, the American spirit proved resilient," said Congressman Fitzpatrick. "I am proud to lead bipartisan legislation to recognize those who lost their lives on that day. We must never forget those who made the ultimate sacrifice."
"Our nation suffered immense loss on 9/11, but in the face of great evil, Americans of all walks of life came together to support each other — especially in North Jersey, where we will always live in the shadows of those attacks. By formally recognizing 9/11 as Patriot Day, we will make sure that we always honor the memory of those who lost their lives that day — and never give up our fight against terror," said Congressman Gottheimer.
Read the text of the Patriot Day Act here.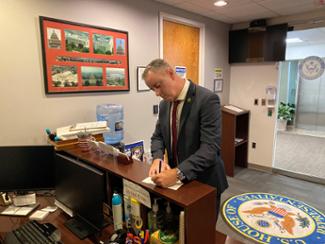 ###