WASHINGTON, DC – Congressman Brian Fitzpatrick (PA-01) released the below statement on the Speaker vote:
"Our statement below was true then, it is true today, and it will remain true every day going forward. The 208 aiders and abettors who enabled the 8 extremists to punish bipartisanship in the U.S. House of Representatives shall own all of the consequences that manifest from their irresponsible decision to throw the House into chaos. Try as they may, there is simply no other way to spin this.
As a result of their actions, we have now gone two full weeks with an entire branch of government shut down, at a time when the world is on fire. The American people need us, and yet our entire federal government will run out of money in just 29 days. Israel needs us, and yet we cannot even go onto the House floor to condemn Hamas, provide aid to Israel to combat terrorists, and rescue American hostages during this shutdown. Ukraine needs us, as they will run completely dry of the weapons they need to defend themselves in less than 2 weeks and risk being slaughtered on the battlefield. Taiwan needs us, as China looks to seize on this chaos, invade Taiwan, and throw our financial markets into complete chaos. We cannot help our own people and our own allies if our own government is not open. Our government cannot re-open without a Speaker. It is that simple.
Speaker McCarthy put a bipartisan bill on the floor to successfully avoid a debt crisis, and he put a bipartisan bill on the floor to successfully avoid a government shutdown. A Motion to Vacate was brought against him precisely to punish him for these bipartisan actions that saved our country. These 208 + 8 have made it abundantly clear that they will not tolerate, protect, nor vote for, any moderate Speaker who demonstrates bipartisanship and puts two-party solutions on the floor. What a terrible message they've sent to America. And they have now left the rest of us with no other option other than to immediately fill the Speaker vacancy with the first Member of the Majority who can garner 217 votes. Whoever this person is will be a direct consequence of the 208 + 8 who decided to punish bipartisanship and throw the People's house into chaos. Our government cannot stay shut down for another day. We must elect a Speaker and re-open our government ASAP."
Fitzpatrick previously released the following statement on the Motion to Vacate the Chair: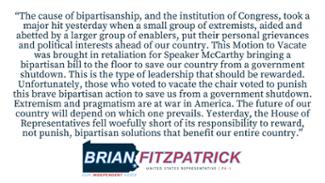 ###